Sun City Center
Organ and Keyboard Club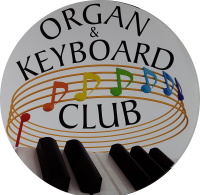 Upcoming Events Page
The organ club resumed regular meetings on January 6th. We start at 10 a.m. Now, masks are optional.
Lesson schedule for the month of May:

May 5th "Call Me"/Java Jive - Instructor, Steve Downie
May 12th "In The Still Of The Night" - Instructor, Sandy Gundacker
May 19th "New York, New York" (theme from ….) - Instructor, Joanie Manero
May 26th t/b/a
May will be final month of meetings before shut down during summer months. The Armstrong Room will continue to be available to members for help/practice at the same time every Thursday morning 9 - 11:30 during June, July, and August. The Friday afternoon time will be discontinued during the summer months.

As always, we would like anyone who wishes to play to come early and entertain us before class begins. It is so nice to hear music playing as we walk through the door and while we wait for class to begin.
Dec. 11. 2022 will be our Christmas party in the Florida room

As Listed on:
The Sun City Center Business Directory